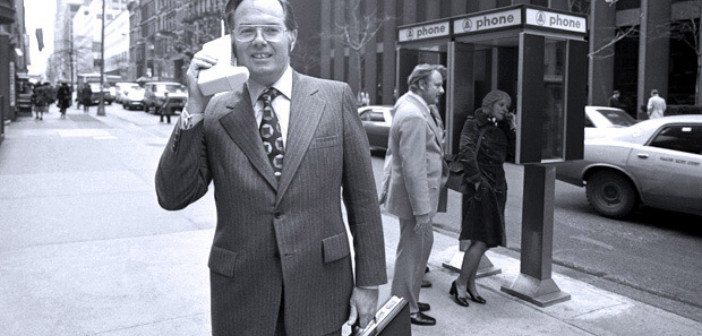 #TBT: Mobile commerce needs more speed; WISP and WASP; Calendar of the 3G investment cycle…this week in 2001
Editor's Note: RCR Wireless News is pulling out all the stops for Throwback Thursdays, drawing from our archives to resurrect top headlines from the past. Turn on the time machine, put on those sepia hues, set the date for #TBT and enjoy the memories!
The 'M-commerce' experience is slow, frustrating
The idea sounds compelling. With web-enabled cell phones, users can call their favorite merchants to make automated purchases. It's called m-commerce, but for skeptics like Lawrence Steinert, it's more promise than reality. When it comes to new technologies, Steinert is no shy violet. He is president and CEO of 4 MFG Inc. in Chicago, an e-commerce marketplace selling everything from pallets to forklifts for manufacturers. But using his cell phone for more than a conversation frustrates him. "Right now, the wireless internet connections are far too slow, and the text display on my phone only shows me a few lines at a time," Steinert says. "M-commerce isn't worth it. I'd rather wait until I get back to my desk and use my desktop computer to order something. So far, many other consumers have made the same decision. Nonetheless, Boston-based consulting firm Yankee Group predicts that Americans will make $50 billion in annual wireless service purchases by 2005. … Read more
Optus surveys its suitors
SYDNEY, Australia-Cable & Wireless Optus has confirmed that it has received revised proposals from parties interested in buying the Australia-based operator. Vodafone Group plc, Singapore Telecommunications and Telecom New Zealand are reportedly interested in buying the operator, which has mobile, consumer and enterprise data assets. According to a Financial Times report, SingTel has launched a revised cash and equity offering of approximately $8.95 billion and currently appears to be in the lead to strike a deal. SingTel would likely retain all of Cable & Wireless Optus, while Vodafone and Telecom New Zealand would retain only the wireless assets. … Read more
Q&A with CTIA President Tom Wheeler
WASHINGTON — The name of the Cellular Telecommunications & Internet Association may have changed, and the CTIA can hope to grow its membership by focusing on wireless data, but it's still focused overall on the issue that has been at the center of attention for several years: spectrum and how to obtain more of it. Continuing a tradition, Washington-based RCR Wireless News reporter Heather Forsgren Weaver recently spoke with CTIA President Thomas E. Wheeler to see how the wireless industry's central trade association has changed. by taking over "and the Internet". The answer seems to be not much.
RCR Wireless News: What new issues are you working on now that weren't issues two years ago?
Wheeler: I think everything is scalable. Everything has a root elsewhere. We would probably define our two main public policy activities as the spectrum issue, which has two subsets: lifting the spectrum cap and, second, getting more spectrum. The other public policy issue is our relationship with local service companies. This also has two subsets. One is interconnection and the amount of interconnection tariffs. The other is how universal service will eventually unfold and our ability to provide service – competitive service – in rural areas. (When asked for further clarification, Wheeler confirmed that he was talking about the ability of wireless carriers to be granted eligible telecommunications operator status, the first step in the process to receive universal service subsidies. .) … Read more
WISP and WASP vs Operators
Like the nagging pain of a mild whiplash, new wireless application service providers (WASPs) and wireless Internet service providers (WISPs) are eating into established carrier territory, according to research published by Friedman , Billings and Ramsey & Co. Inc. ., an advisory and market research group. The 136-page study, which expresses confidence in the future of the wireless industry, states: "Although major operators currently control the relationship with end users, the emergence of new WASPs and WISPs should challenge question their position in the market". Riyad Said, general manager of communications services at FBR, identified some of the new WASPs as Canada-based Aether Systems and 724 Solutions and WISPs like OmniSky, GoAmerica, and Research In Motion. "These vendors came into the market with the goal of providing and optimizing the development and delivery of wireless application data," he said, adding that it allowed them to access different networks and mobile devices. He said established carriers are mostly voice-based, which leaves plenty of room for new entrants to position themselves for the future, where data is expected to rule. … Read more
NMT, GSM and CDMA
BUCHAREST, Romania – Throughout the 1990s, analog NMT wireless systems became somewhat obsolete, especially with the advent of GSM technology. Digital GSM systems, which provide users with services such as short message service, caller ID, group calls and data transmissions, are widespread throughout Europe and have overtaken NMT networks in terms of number of users and profitability. NMT operators have been forced to switch their analog networks to digital systems or shut down NMT networks altogether. The NMT MoU has established several solutions to help NMT operators survive. GSM 450 MHz was promoted by Nokia Corp suppliers. and LM Ericsson, and the 450 MHz CDMA solution was backed by Samsung and Qualcomm Inc. A third solution involved a hybrid technology using GSM baseband and signaling and a digital Terrestrial Trunked Radio solution known as D- NMT (Digital NMT) and offered by the Swedish company Radio Design AB. Most operators and manufacturers have adopted the first two solutions, but the third option has not been sufficiently supported to move forward. GSM 450 MHz technology brings the benefits of the widespread adoption of GSM in Europe, enabling roaming between different networks and a full range of feature-rich services and capabilities that are already available in the 900 MHz, 1800 MHz and 1900MHz. … Read more
Japan's 'browser phone' users top 30 million
TOKYO-The number of browser-based phone users in Japan exceeded 30 million at the end of February 2001, according to the Telecommunications Carriers' Association, an industry body. According to the TCA, the number of users of browser-based phone services provided by three Japanese carriers reached 31.41 million. Separately, NTT DoCoMo announced that the number of users of the operator's popular i-mode services has exceeded 20 million. The other two operators in the country also increased their number of browser-phone users in February: EZ web services provided by the KDDI group increased by 453,900 subscribers to 6.11 million, and J-Sky services provided by the J-Phone group increased by 509,800 to reach 5.52 million users. … Read more
Trying to fix the timing of the 3G investment cycle
The new CEO of Andrew Corp. promises that the wireless communications equipment maker will double the company's revenue in four years. Guy M. Campbell, who succeeded Floyd English in October, announced at last month's annual meeting that he expected Andrew to reach $2 billion in revenue by 2004. The company based in Orland Park recorded $1.02 billion in sales last year, up 29% from 1999. Andrew is counting on a surge of orders as wireless service providers begin to build a network of infrastructure to support third-generation networks. Relying on a wider radio frequency spectrum and all-digital transmissions, 3G will allow wireless users to send and receive data at blazing speeds. Andrew manufactures the base station antennas, power amplifiers and filters that will form the backbone of 3G. Most experts agree that 3G will require massive new infrastructure. Allied Business Intelligence Inc., headquartered in Oyster Bay, NY, projects that the total number of wireless base stations worldwide will increase from 823,000 in 1998 to 2.85 million in 2004. Almost every station has a combination of Andrew components. "For Andrew, 3G represents our biggest new opportunity, and we intend to capitalize on it," Campbell, who is also chairman, told shareholders. But the timing of this potential windfall is not easy to predict. … Read more
Check out the RCR Wireless News Archive for more stories from the past.