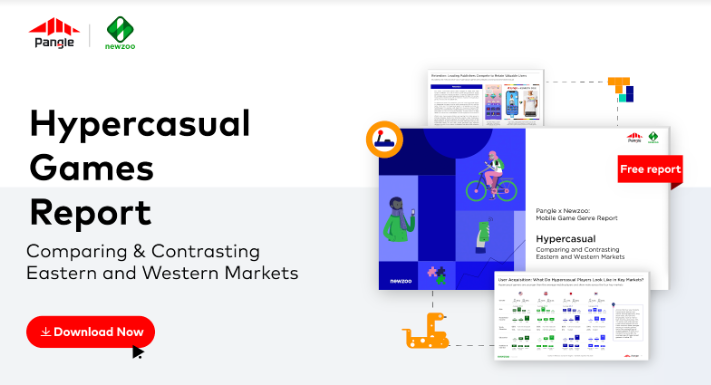 Hypercasual Gaming: How to Improve Your Mobile Gaming Retention East and West
The mobile games market offers enormous potential for success. But, as the market has matured, it has become increasingly difficult to reach new players and retain existing ones.
Mobile is now home to dozens of different gaming experiences, from high spec 3D action games to much simpler titles. It's these simpler experiences or hypercasual games that Pangle – the TikTok for Business advertising network – and industry analysts Newzoo have focused on with their latest report, which offers reliable insights for developers and publishers looking to better understand the state of the mobile games market in 2022. .
The report examines the performance of hyper casual games using recent historical download data rather than in-app purchases (IAPs), as the biggest source of revenue for this segment tends to be in-game ads.
In this article, we've selected some of the report's key findings, including what publishers are doing to retain gamers, how this segment has been affected by data protection changes in mobile app stores (IDFA regulations) and the popularity of hypercasual. games between Western and Eastern mobile markets.
If you want to learn more about hypercasual gaming, read the full report here: Hypercasual Genre Report: Compare and Contrast the Genre in Eastern and Western Markets
WHAT IS HYPERCASUAL?

Let's not get stuck in semantics. Pangle and Newzoo define hypercasual games as "simple, minimal gaming" often reliant on "ad-based monetization". From titles inspired by 70s and 80s arcade games, to one-button endless runners and simple word games – hypercasual games have incorporated all of these genres and more.
According to metrics from Pangle and Newzoo, the hypercasual segment was the most downloaded mobile game genre in the US, UK, Japan and South Korea in 2021, despite ID regulation changes for advertisers (IDFA). The number of hypercasual products in the top 100 download charts in the aforementioned countries increased year-on-year from 14% in 2018 to 36% in 2021.
In this new era, Pangle and Newzoo argue that the hypercasual genre faces fewer user acquisition challenges than casual and mid-core due to its broad targeting strategy.
However, the biggest challenge facing hypercasual games remains player retention.
HOW TO SOLVE A PROBLEM LIKE CHURN?
Gamer churn is typically much higher for hypercasual games than for other genres. The average seven-day retention for mobile games is around 20%; this rate often drops below 10% for hypercasual games.
To combat player churn, publishers have focused on ways to improve retention and find new revenue opportunities. Pangle and Newzoo found that publishers combine metagame elements from other popular genres, such as puzzle and simulation, to add depth and replay value and create additional monetization opportunities.
For example, Supersonic's Join Clash, a 3D endless runner, now features RPG mechanics and customization. Rollic's Tangle Master 3D has added a pet-like system to its central color-sorting gameplay, giving it a new personality. And High Heels, also from Rollic, has introduced leaderboards and started experimenting with live operations – like partnering with Kenneth Cole for the designer's Pride 2021 collection – to increase player engagement.
THE NEW STANDARD
Deeper game mechanics and the layering of additional personalities, metagames, or live events are some of the primary ways hypercasual game creators make their titles more competitive. At the same time, they are also looking to supplement their base ad revenue with hybrid monetization.
"Hypercasual developers are now thinking carefully about their advertising model to avoid pushing more players to unsubscribe"
Before we get to that, let's talk briefly about in-game ads. In-game ads remain the single biggest source of revenue for hyper-casual game developers, Pangle and Newzoo found. Over the past year, more hypercasual games have attracted advertising from other gaming segments as publishers see potential new customers in this broad demographic.
These ads break down the game experience, manage progression, unlockables, and rewards. Interstitial video is generally the most common advertising format used in hypercasual games. The report examined the acceptability of ad formats in Japan, South Korea, Brazil and Russia in 2021. It concluded that banner ads are more accepted in Brazil and Russia than in Japan and South Korea .
Speaking of acceptable, hypercasual developers are now thinking carefully about their advertising model to avoid pushing more players to unsubscribe and incentivizing players to pay to enhance their gaming experience in new ways. Of course, it's now common in hypercasual games and many mobile apps to make a one-time payment to remove ads. Some studios, such as Homa Games (creators of Sky Roller), have tried to trick players into paying for a subscription that removes ads and gives them exclusive content or extra in-game currency.
SNAKE.IO: MADE IN AMERICA, LOVED IN ASIA
So, hypercasual game developers are taking steps to retain gamers in the ever-tougher mobile space. However, while gamers in the West have developed an attachment to hypercasual titles, they are not as popular in the East. About half of the top 100 games by download in the US and UK in 2021 were hyper-casual, compared to only about 20 of the top 100 in Japan and South Korea.
Kooapps is one of the developers who managed to create a hypercasual game that is all the rage in Western and Eastern markets. Snake.io, a colorful and competitive take on the snake game genre known to millions, reaches 2.5 million daily active users (DAUs). For DAUs in particular, the Philippines, Vietnam, and Indonesia are in the Top 15 countries in the game. Meanwhile, from a revenue perspective, Japan, South Korea, and Taiwan are among the top 15 .
To achieve this success in Asia, Chun-Kai Wang, CEO and co-founder of Kooapps, told Pangle that his studio needed a game idea with universal appeal and business partners with strong local tact.
As the mobile industry becomes more competitive, make sure you have the best setup and networks on the ad tech side."

Chun-Kai Wang, Kooapps
"It was really Snake.io that helped us unlock the opportunity in Asian markets. With its universal mechanics, Snake.io transcends language and culture and becomes a game that everyone wants to play. allowed to enter Asian markets," Wang said.
"On the ad monetization side, you need to work with partners who have strong local expertise. As the mobile industry becomes more competitive and consolidated, make sure you have the best setup and networks in the market. side of ad tech. Test as many networks as possible [and make sure it's all optimized]."
Jason Wang, chief product officer at Pangle, says the company is well positioned to help hyper-casual publishers succeed on a global scale: "With innovative products like retention optimization and expert teams that work with publishers to optimize their UA strategies, create fun, engaging and effective ads, and ensure that every aspect of their game marketing supports their monetization goals."
In the full report, you can learn more about Snake.io in Asia, opportunities for hypercasual gaming, and how Pangle could benefit your business.
The Hypercasual Genre Report: Comparing and Contrasting the Hypercasual Genre in Eastern and Western Markets by Pangle & Newzoo is available now.
About Pangle
Pangle is the advertising network for TikTok for Business, enabling global app developers to grow their apps and maximize revenue through an exclusive TikTok for Business ad application. Pangle offers a growing network of mobile apps in over 35 emerging markets, with proven success in Asia, the Middle East and Latin America.
Learn more about Pangle